Last week the Health, Social Care and Wellbeing Overview and Scrutiny Board visited an innovative and exciting project in the village of Blaen Garw in Bridgend as part of their current review into the work towards personalisation and transformation of adult social care in Swansea.
The Board met with David Pugh who is Co-ordinator of the Time Bank Project in Blaen Garw.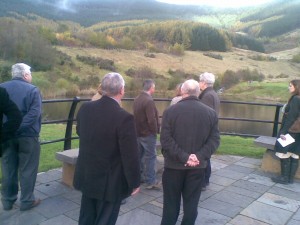 The principle behind Time Banking is to increase the level of volunteering and enhance community spirit by acknowledging the contribution that residents make to their community. This means that for every hour of time that someone spends volunteering they are given one time credit.
One credit gives access to one hour at a Time Centre event (ranging from concerts, training courses, crèche facilities, keep fit, children's parties etc basically anything that the community wants the co-ordinator will try to arrange it), or time credits can also be exchanged with other community members in return for voluntary work.
For example, an elderly person may have earned some time credits by babysitting which she could then exchange with someone else to do her shopping for her. That person could then use the time credits earned to attend an event organised by the Time Bank project. This means that the time credits have become a sort of "community currency" that is widely used in Blaen Garw. The village social club accepts time credits as payment for entry into their social events and the project is in discussion with Bridgend Council to see if they will allow time credits to be used to pay for entry into local authority owned leisure facilities.
The project has been running for 6 years and has achieved a lot, some of the successes include:
Over 700 people from the community involved in volunteering, with ages ranging from 4 to 96.
Annual carnival – always very well attended, last year 5,000 people attended and this year 2,500 attended.
Creation and maintenance of a village green on a former piece of scrub land previously owned by the Council.
Digital story telling project, improving communication and relationships between different generations.
Support for community groups to apply for funding and encouragement to set up new groups (over 20 new community groups have been established since the project was started)
Establishment of Community Café (a social enterprise), employs 2 full time members of staff and there are plans to expand the café.
Establishment of a sculpture workshop and involvement of community in creating several large sculptures which show the history of the village.
Creation of mountain biking trails in order to encourage tourism into Blaen Garw. Also plans to create holiday let flats.
Regular entertainment events organised; quarterly Events Diary issued.
Regular established activities organised, including many activities for young people which are all well attended.
Wide variety of learning opportunities provided.
Playroom and after school crèche.
Anti-Arson project with young people.
Creating employment through employing people through the Future Jobs Fund.
Has brought over £4m into the community in terms of external funding.
The Board felt that the project was inspirational and that the benefits to the community could clearly be seen. The next step in their evidence gathering for the review will be to visit The Gorseinon Project, which is in the process of establishing a similar scheme.