The Environment & Communities Overview & Scrutiny Board is carrying out an in-depth review of the issues facing the City Centre. The problems of the City Centre have been widely publicised lately and it is a high priority for the Council and its partners.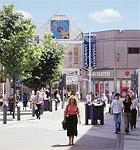 The Board have a detailed evidence gathering plan which will take them up to December and they have prioritised this work over everything else for the next few months. Their work will include:
A detailed consultation exercise where Board Members will carry out face to face surveys with members of the public who use out of town retail centres to find out why they prefer to shop there instead of in the city centre
Meetings with traders
Meetings with representatives of the night time economy
Meeting with key stakeholders such as the City Centre Champion, the Chair of the City Centre Partnership, Members of Swansea BID (Business Improvement District)
Discussions with the Leader, Cabinet Member and relevant senior officers
They kicked off their investigations at their Board meeting this week where they received an update on the City Centre Action Plan and had discussions with the Leader of the Council (Councillor Chris Holley) and the Cabinet Member for Economic & Strategic Regeneration (Councillor Gareth Sullivan).
The Board will be meeting in a task and finish group towards the end of September to finalise their evidence gathering and consultation plans. Further details on the consultation that is planned for October will be posted here and publicised as widely as possible. In the meantime if you have any views or comments for the Board you can leave them here.