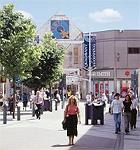 Cabinet has accepted all of the recommendations made by the former Environment & Communities Overview & Scrutiny Board in relation to its review of Swansea City Centre.
Cabinet formally considered the scrutiny report last Thursday. A joint report was provided from the Cabinet Member for Regeneration, Cllr Nick Bradley, and Cabinet Member for Place, Cllr June Burtonshaw, proposing a response to the recommendations.
The report included a detailed action plan to show how each of the scrutiny recommendations would be implemented. The new Place Scrutiny Board will be responsible for following up on the recommendations / action plan agreed by Cabinet, later in the year.