The Tourism Inquiry Panel met for the second time on the 15th August to look at the work of the Tourism and Marketing Section at  Swansea Council.  Councillors discussed the presentation made by the section on: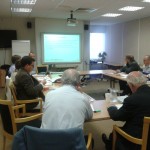 The vision towards 2020
Tourism and its contribution to the local economy
The strategic priorities
Who is targeted, and
Marketing Swansea
Some of the questioning then focused around:
The work that is completed in relation to marketing the city and county as a tourist destination
How social media and the world wide web is used
The different sectors of tourism and who is targeted
How market intelligence and research is collected and used
The access to the city from the sea
Challenges for the future
The Panel will meet again in mid September to look at the economic benefits, regeneration and countryside issues around tourism. You can keep up to date with the progress of this inquiry by visiting this blog.  If you would like further information please contact Scrutiny by email on scrutiny@swansea.gov.uk or by telephone on 01792 637256.