The Attainment and Wellbeing Scrutiny Inquiry Panel spoke to over 60 children and young people in schools in February and March this year.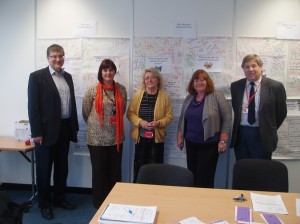 Picture: Members of the Panel with the consultation results
Pupils over the four focus groups were asked:
What do pupils need to do well in school?
What would stop pupils doing well in schools? and
How do you think pupils could be helped so that they can learn better?
Some of the replies for 'what would stop you doing will at school' for example, included:
Bullying
Family problems
Bad behaviour
Feeling sad
Distractions – social media, mobile phones etc
The Panel will be meeting again this week to discuss the Swansea Healthy Schools Initiative.
If you would like further information about this inquiry or scrutiny in general you can email us on scrutiny@swansea.gov.uk