The Attainment and Wellbeing Scrutiny Inquiry Panel will meet next week with professionals from across Swansea to discuss 'what works' in improving the wellbeing of children and young people in Swansea.
The Panel, at this meeting, are keen to investigate areas of good practice and to learn from the experience of people working in the field.  The discussion will cover, for example:
What works in improving children and young peoples wellbeing?
What more needs to be done to improve children and young peoples wellbeing especially in Schools?
What prevents us from progressing further?
Do we have the right balance between intervention and prevention?
This is being completed as part of the Panels time limited inquiry into attainment and wellbeing across schools in Swansea.  The Panel has visited five schools speaking to Headteachers and staff also carrying out focus groups with children.  They have looked at good practice across Swansea and will be looking a good practice further afield shortly.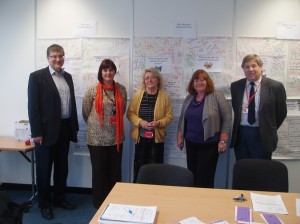 If you would like further information about this inquiry or scrutiny more generally you can visit our website or email us at scrutiny@swansea.gov.uk