Ensuring that local children and young people receive a nutritious, balanced meal at a reasonable price is important, not only for their general health, but also because it affects how they perform in school.   A scrutiny working group has recently been looking at this issue and has come up with a number of ideas around how school meal provision  may be improved.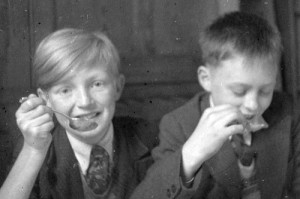 Several ideas have come out of a workshop, where the group heard from from the Council's lead officer for Catering.  As a follow up they will be visiting a number of local schools over the next fortnight, to see for themselves how food is presented, what is on offer and the choices made by the children and young people. Here are the seven ideas:
1. Provide fewer unhealthy options
The group felt that children will usually opt for the unhealthy option, if it is available, yet there are still options such as pizzas, chips (amongst others) on school menus. As well as healthy, nutritionally balanced food,  children should also be encouraged to eat fruit, as many of them don't eat fruit at home.
2. Teach children how to eat better
The working group heard how children and young people often have little or no understanding of the nutritional value of the food they eat. It is therefore important to educate them, as soon as possible, so that they can gain a life-long understanding and appreciation of food and can learn about the benefits of having a balanced diet.
3. Involve children in the planning of menus
Participation by children in respect of healthy eating should be encouraged. A Healthy Schools Group Council has already been set up in one area, with pupil participation being encouraged in  areas relating to children's health and wellbeing. Involving children in decisions about school menus can be beneficial and might help to find a balance between what children like to eat and what is good for them.
4. Involve the parents
Some schools have used initiatives to encourage parental participation,  such as 'Be a Child for a Day'. This gave parents the opportunity to spend a day at the school and experience first hand how it feels to be a student. By involving parents it is hoped to achieve two objectives: to increase parental support and teach parents about food, nutrition and diet, which will be passed on to their children.
5. Think beyond the school gate
Councillors heard that local food suppliers, such as chip shops and ice-cream vans, target children during lunch breaks. Perhaps the local authority could look into licensing in respect of premises selling food in close proximity to schools. 
6. De-stigmatise free school meals
The working group were informed that many children do not take up the offer of free school meals, even when they are entitled to them, due to the stigma behind free school meals. It is important that the children who really need meals receive them, so steps need to be taken to ensure that this issue is addressed.
7. Find celebrity role models
Children look up to their sporting heroes and celebrities in general, so it was suggested that maybe a local celebrity (possibly a rugby player) could be approached, with a view to becoming a 'Champion' for healthy eating in schools.
The working group will be getting together again, shortly after they have made their visits to local schools, to discuss their findings and draw conclusions.
What do you think of these suggestions? Is there anything you would like to add? If so, please comment below or email scrutiny@swansea.gov.uk
Photo Credit:  http://www.flickr.com/photos/22326055@N06/8000476131