The City and County of Swansea is bringing about changes in its regeneration, which is largely as a result of the  Swansea 2020 Economic Regeneration Strategy. As part of this strategy, the 'Beyond Bricks and Mortar' Initiative and Charter have been created, to ensure that benefits from the developments leading up to 2020 reach our community.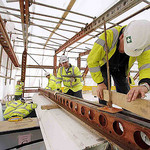 The Economic Inactivity Scrutiny Panel  recently met with the Director of Place and other key council officers, to hear about the work being carried out by 'Beyond Bricks and Mortar'. Phil Roberts explained that project  aims to overcome barriers standing between the local community and job opportunities and will help to secure the social and physical regeneration of Swansea City for the lasting benefit of local communities. This will be done by:
1. Offering training schemes and apprenticeships
Training opportunities and apprenticeships are identified within the project and work is carried out with contractors and agencies, with a view  to helping those who are unemployed, economically inactive and NEET's (not in education employment or training) access training and work placements.
2. Finding Jobs
'Beyond Bricks and Mortar' aims to match local people with the job opportunities created from a wide range of investment by the City and County of Swansea, the Welsh Assembly Government, European Union and Private Sector.
3. Working with partners
The scheme works closely with key partners to maximise the benefits to those involved. Currently the key partners are:
Employers
City and County of Swansea
Welsh Assembly Government
Swansea Local Service Board
Other Public Sector Organisations
Jobcentre Plus
Construction Skills Wales (CITB)
Careers Wales
Training Providers, including Colleges of Further and Higher Education
Communities First
Small Businesses
South West Workways
If you would like to contribute to this panel in any way, then please add your comment below, or email us at scrutiny@swansea.gov.uk
Photo credit: http://www.flickr.com/photos/45393120@N07/4542411829