Wales is the first country in the world to legislate for play, placing a duty on local authorities to assess the sufficiency of play and recreational opportunities for children in their areas. This means that all local councils will need to check what is going on their areas and put in place improvements.  But how well is Swansea doing?  This was one of the questions for Councillor Mitch Theaker (Cabinet Member for Opportunities for Children & Young People) when he recently attended the Scrutiny Programme Committee for a Q&A session.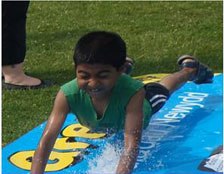 Play was one of the main topics of debate when the Scrutiny Programme Committee, chaired by Councillor Mike Day, questioned Councillor Mitch Theaker at its meeting on 8 July. In particular the Committee was keen to find out how the Council has responded to the new legal duty. They heard about an independent survey, carried out by Swansea University, which indicated that current provision was generally good. While a short and long-term plan is being developed there is, however, no funding until 2014 from the Welsh Government to support any improvement plans so the immediate focus is on low or no cost measures.
The committee heard from the Cabinet member about a number of new initiatives:
Play Streets – this involves closing down a street for a set time in order to allow children to play safely on their own street with friends who live nearby, protected from road vehicles. The committee welcomed plans to pilot this in Swansea.
Opening up schools to communities so that play facilities / equipment, which otherwise would be locked away during the summer, can be accessed. The committee gave its support to any initiatives that would see greater utilisation of schools for community benefit.
Providing clearer information about local provision in Swanseaon the Play Service website
Bridging the gap between play for children and for youths for those that are somewhere in the middle.
During the meeting the committee was able to explore the Cabinet Member's other portfolio responsibilities, achievements and priorities. The full contents of a letter sent the Cabinet Member following the meeting is attached to this post. This reflects on what the committee learnt from the discussion, and its views.
The committee has an important role in holding the council's cabinet to account. By acting as a 'critical friend' scrutiny has the opportunity to challenge the cabinet and individual cabinet members on their actions and monitor performance in relation to their areas of responsibilities. The Scrutiny Programme Committee has scheduled a session with all 10 cabinet members over the course of the year in order to ask questions on their work.
13July29 Letter to Cllr Theaker
Picture: City and County of Swansea