The way that public transport is provided is changing.  The Council has less money to spend on subsidising public transport; the Welsh Government has reduced the funding it gives to public transport operators; public transport operators have reassessed their provision against these factors and the general decline in passenger numbers and revenue.  These were some of the main findings that came out of the recently concluded scrutiny inquiry into public transport and social inclusion in Swansea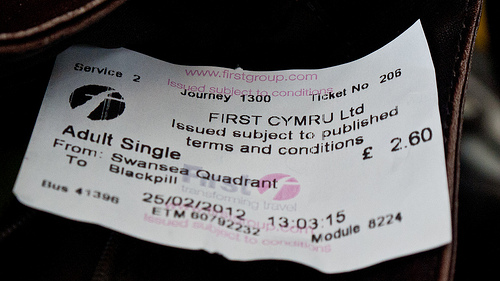 The report of the Scrutiny Inquiry Panel – Getting a "fare" deal – provides a number of recommendations about how the Council and its partners can take steps to improve public transport and benefit people who live and work in and visit the City & County of Swansea.
The Convener of the Panel, Councillor John Newbury says this in his foreword to the report:
During our evidence gathering we found that changes to Welsh Government's public transport funding regime had started to have a negative effect on bus provision in Swansea.  We realised that gaps in the public transport network would persist due to these changes and in all likelihood, would get worse. We concluded that all public transport providers, including community transport providers, the Council and public transport users would need to work together in a much smarter and innovative way to make sure that our public transport network does not inhibit our ability to deliver Council policy priorities.
In developing its conclusions and recommendations the Panel heard evidence from council officers, public transport providers, community transport providers, Action for Children Young Parents Group, groups representing disabled people, the academic community and West Yorkshire Metro.
The report, which will shortly be presented to the Council's Cabinet, proposes that the Council:
Reviews how it allocates the transport subsidy
Investigates the feasibility of the Quality Contract Scheme
Integrates community transport into the public transport network
Includes in the Local Development Plan that all new housing and economic developments provide for accessible transport through infrastructure and travel plans
Works with public transport providers to ensure that vehicles do not block bus stops
Ensures that all bus stops are accessible and meet legislative requirements
Works with public transport providers to review and improve employee equalities training
Requests public transport operators to have accessible complaints procedures
Ensures that information for onward journeys is available in appropriate places
Has representation on public transport provider customer panels
Ensures that proper public transport plans are in place for the 2014 European Paralympics event
You can download a full copy of the report from our Scrutiny Reports Library
Photo credit: http://www.flickr.com/photos/sylvia/6937627751