Public engagement plays an essential part in involving the public in decision making. It makes them feel empowered that they can play a key role in influencing decisions. There are so many different ways to engage with the public. The important thing is that we learn from the successful public engagement that has taken place so that good practice can be passed on.
The Public Engagement Scrutiny Inquiry Panel wanted to hear about these good practice examples of public engagement both internally and externally.
Welsh Council's have carried out a lot of public engagement so it was hard to choose but here is a good place to start.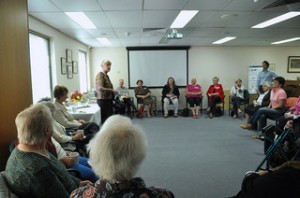 These are the one's that we think you should have a look at:
1) Denbighshire County Council, Cae Ddol Park Community Involvement – Participatory Budgeting   A community was involved in making the decision on how money was spent in their area. This resulted in a new facility at the park for the children and the residents felt more empowered and involved with making the decision.
2) Carmarthenshire County Council, Carmarthenshire Community Challenge – Consultation exercises in a small community  The council undertook an intensive consultation and engagement exercise in a small community to see how effective engagment could produce changes to public awareness and behaviour in a way that reduces their carbon footprint.
3) Rhondda Cynon Taf County Borough Council, Tackling Domestic Abuse – The Kafka Brigade Method  The Kafka Brigade were engaged by Rhondda Cynon Taf's Local Service Board to review service response to domestic abuse.
4) Swansea's Safeguarding Children's Board –  Members of the Swansea Safeguarding Children's Board and young people came together to develop and discuss the boards priorities. The information gathered identified priorites for the Board for 2013.
5) Swansea's Corporate Parenting Forum – Challenge Sessions  The Corporate Parenting Forum and members of the Fe Fi Forum and other groups of looked after children work together during these sessions on a particular issue or subject area. These sessions highlight the areas that need to be improved upon.
6) Children and Young People's Participation Team – Big Conversation This project was about providing safe but informal spaces for young people aged 11-25 years to come together and explore what matters to them and to be supported to voice issues to appropriate and relevant decision makers to inform change.
7) Swansea Scrutiny Team – Review of the Cycling Strategy The purpose of the review was to develop and promote cycling in Swansea as an environmental and healthy form of travel for both transportation and leisure. A number of methods were used to gather information for this review which led to a number of improvements.
These seven examples just give you a flavour of the wide range of public engagement that is being carried out in Wales.
The panel will use this information in its inquiry into public engagement that is currently taking place. Watch this space for more information on this inquiry.
Photo credit – http://www.flickr.com/photos/31209984@N06/6236367067