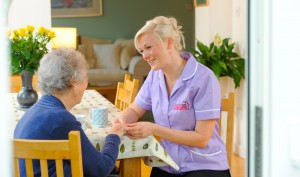 Social Care at Home Scrutiny Panel members met with a number of providers of social care at home (aka domiciliary care) recently, to learn about the service they provide and to give the councillors a unique opportunity to hear about concerns and issues that may be affecting the current system.
The Social Care at Home Panel  members were very grateful to the following agencies for their participation and contribution to the inquiry. These were a few of a number of service providers working in and around Swansea:
Alpha Homecare
Crosshands Home Services
Aylecare Nursing Services
Village Homecare
Home Comforts
Family Housing Association
Coastal Housing
During the meeting a number of issues were raised and the councillors felt that the discussion had provided them with food for thought. The results of their findings will be detailed in an in-depth report, which should be available  around June/July of this year, together with any recommendations they wish to propose for improvements to be made to the service.
Some of the topics discussed were:
The merits of outcome focused and time tasked care
Eligibility criteria to receive care
The Assessment and Reassessment Processes
How the Brokerage List works
Financial implications – for agencies, service      users & the Council
The cost of additional (private) services to service users
Communication barriers
The Complaints Procedure
Abuse of the service by some service users
The appropriateness, frequency and lengths of visits
What '0' hour contracts mean for carers
Resources and training available for carers
Carers salaries, including travelling costs
 Food services for service users, including food preparation time
Over the next couple of weeks the Panel will be visiting service users in day centres across Swansea, to hear what they have to say about the service they receive in their homes.
If you feel that you have anything to contribute to this inquiry, please email: scrutiny@swansea.gov.uk, or contact a Scrutiny Officer on 01792 636393.
Photo credit link: https://flic.kr/p/c3ygXEhttp://https://flic.kr/p/c3ygXE