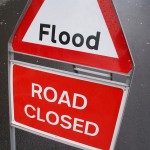 A meeting of the Local Flood Risk Management Scrutiny Working Group will take place on Thursday (13 Nov, 10am meeting room 3.4.1 Civic Centre).
The Working Group will be consulted on the Council's progress towards delivering the Flood Risk Management Plan for Swansea.
This is a follow on from scrutiny work that was carried out in January 2013. The Working Group met then to look at the Council's draft Local Flood Risk Management Strategy and came up with a number of recommendations, including:
production of a community "fact sheet"
improving advice and assistance to people dealing with local issues
improving inspection, cleaning and maintenance of drains and culverts
a councillor seminar on flood risk as the strategy develops
greater consideration of drainage issues in development control
ensuring a corporate approach to flood risk management
learning from experiences elsewhere
The working group also felt that there should be further discussion by scrutiny when more detailed plans were developed and there was information available on specific areas of risk. This information is now available and will be discussed by councillors on Thursday.
If you are interested in attending the meeting please give the Scrutiny Team a ring on 01792 636292 or email scrutiny@swansea.gov.uk .
Photo credit: Flickr Creative Commons