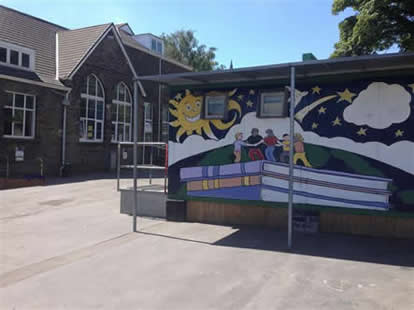 Scrutiny Councillors from the Schools Scrutiny Performance Panel congratulate the Headteacher and school staff, the Challenge Advisor, the governing body, parents and pupils at the Morrison Primary School for their hard work and commitment to driving improvement at the school.  The Panel, overall, are pleased to see a strong leadership team at the school emerging along with a supportive and challenging governing body. They are so keen to see the improvements that have been put into place embedded and making an impact that they plan to make a visit to the school this time next year.
The Panel on the 15 February met with the Headteacher Alison Thomas and the Vice Chair of Governors Cllr Andrea Lewis from Morriston Primary School.  They chose to speak to the school because in Spring of 2017 Estyn judged it to be Adequate for current performance and Adequate for its prospects for improvement.
From the discussion with the Headteacher, Vice Chair of Governors and the Education Improvement Service the Panel have concluded that there is now a much improved picture at the school as compared to the situation when Estyn inspected in March 2017.  They felt that this is mainly due to:
The school having a new and enthusiastic Headteacher who is committed to driving improvements forward at the school
The school welcoming support and challenge from the Team Around the School including the Governing Body; along with making efforts to work with other schools and headteachers to improve and to exchange good practice through, for example, book scrutiny.
The school has strong support from parents and local community.
The school has a far more correct understanding of where it stands with regard to its current performance and prospect for improvement (self-evaluation)
Reviewing policy and putting procedures in place to address the issues relating to safeguarding at the school.
The school having a supportive, engaged and knowledgeable governing body that has the necessary skills to help to drive improvement.
The Panel wish the school the very best for the future and look forward to their visit in February 2019.
If you would like any further information about scrutiny in Swansea you can visit our website at www.swansea.gov.uk/scrutiny or contact us by email at scrutiny@swansea.gov.uk