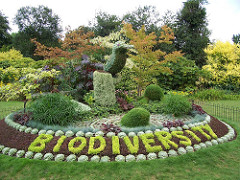 A new scrutiny inquiry panel has started which will look at the Natural Environment and Biodiversity.  Over the coming months the Panel will be looking into aspects of the Natural Environment and will look to address the following key question;
'What should Swansea Council be doing to maintain and enhance its natural environment and biodiversity, and in so doing promote the resilience of eco-systems?'
Councillors have chosen to look at this subject because:
Two recent and major pieces of legislation – the Environment (Wales) Act 2016 and the Well-being of Future Generations (Wales) Act 2015 place requirements on Councils ensure that the natural environment and biodiversity are prioritised
Councillors have wanted to carry out this piece of work in order to build a picture and gain better understanding of progress being made in this area
Councillors want to ensure that considering the range and pace of development in Swansea, that the natural environment and biodiversity are considered at all stages
Lines of Inquiry
The Panel will specifically focus on the following questions:
The Swansea Picture: What is the picture in relation to the Natural Environment as it affects Swansea currently? What are the proposals for the future? Where do we want to be?
Financial Picture: What are we financially contributing too currently? How is it envisaged to change in future?
Partners: The current relationship between Swansea Council and the relevant partners?  The barriers to improving this?
Impact: What has been the impact for Swansea and its residents so far?
Scrutiny: What Scrutiny mechanisms have been built into Natural Environment governance arrangements?
Legislation and Directives: What are the influences on the Natural Environment by national and local directives/policy/legislation?
Good practice: Are there good examples of effective practice in meeting requirement in relation to the Natural Environment and how are we/partners using this to improve?
How to provide your views…?
Councillor Peter Jones, Convener of the Inquiry, would like to encourage the widest possible participation from members of the public: 'Wildlife and wildlife living spaces have suffered catastrophic declines in recent decades.  We are part of Nature – are we to lose the many different life forms that are so central to our world, or can we act to save them by living our lives differently?  Please submit your ideas and views on how we can halt and reverse this decline.  Together we can do it.'
Interested groups or individuals are encouraged to submit written evidence to the inquiry by email by 30 September 2018 to scrutiny@swansea.gov.uk. The Panel may contact you to discuss your evidence.  All evidence that is submitted will usually be published as part of the inquiry, if you do not wish for your evidence to be published please state clearly on your submission.
picture credit: worldslandinfo