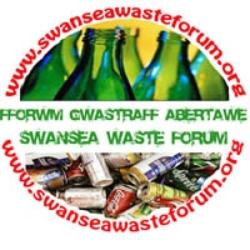 Last week, the Environment & Communities Overview & Scrutiny Board were pleased to be invited to attend a specially arranged meeting of Swansea Waste Forum . The forum were keen to  to participate in and provide evidence for the Board's current  review into Waste Minimisation, Recycling and Composting in Swansea. The Board is particulary interested in gathering views on whether Swansea Council is doing enough to increase recycling and to meet challenging Government targets to reduce the amount of waste that is sent to landfill.
 In order to inform the debate 2 presentations were arranged:
Presentation by Gordon James, Director of Friends of the Earth Cymru – Waste in the Wider Environmental Context
Presentation by Gavin Evans, AB Glass – Business Recycling Case Study (winners of the Sustainable Swansea Business Award)
 Following the presentations there was a lively and interesting debate which generated some very good ideas and suggestions to help develop the review.  These included:
Meet with SCRAP (Swansea Community Recycling Alliance Partnership)
Consider ways to support Recycling Team's next objective (following the completion of introduction of Alternate Weekly Collections) which is to focus on reduction of waste and re-use

Further explore levels of recycling from Council run buildings e.g. community centres, community houses, leisure centres, offices etc and the information and advice that is provided regarding recycling and waste minimisation

 

Consider extending/enhancing links with local furniture/white goods retailers to ensure that they have information to provide to customers regarding disposal options that include recycling/re-use.
The Board will discuss these ideas and other issues raised  in further detail at their next meeting.