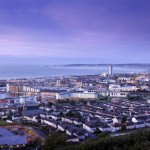 The Environment & Communities Overview & Scrutiny Board have now completed their review of Swansea City Centre. The Board were pleased to see that there is a good understanding of the difficulties facing the City Centre and that the Council is taking the lead on developing strategies and plans that aim to improve the situation. They also saw many positive examples of how businesses in Swansea are working together and with the Council through Swansea BID to address these issues. But that doesn't mean that there are no areas for improvement.
One of the key messages from the review is the need to promote greater participation by Swansea residents in the development of the City Centre. The Board found a need to get more people involved so that a wider group of people can have a say in what they want from their City Centre. The Board also made a series of practical recommendations that they believe will assist in the shorter term such as more flexible opening hours, a review of public transport in around the City Centre and suggestions to improve the environment through the creation of more green spaces.
The Board spent a significant amount of time looking at the issues facing the City Centre and developing an understanding of the mechanisms that are in place to improve it. The work carried out during this review has made it clear how important it is to the overall well-being of Swansea.
The crucial role of the City Centre in forming the identity of Swansea was one reason why the Board chose to focus on it. They also wished to make sure that strategic plans for improvement are translating into action on the ground. The Board found that Swansea City Centre, like many others across the country, is experiencing difficulties due to the recession, which has affected how much people are spending. In addition, competition from out of town retail centres and the ever increasing use of the internet is having a major effect on trading conditions. Locally, businesses have highlighted their concerns about the cost of car parking, high business rates and rents, anti-social behaviour and the impact of road works. Swansea City Centre has an above average number of empty shops and the amount of people visiting it is decreasing.
The next step will be for the report to be submitted to the Cabinet who will consider the recommendations made by the Board. The Board will follow up this work later this year. The report can be found here (please note this is a pdf file).