Since the 2008 recession town centres around the UK have been hit with the hardest trading conditions for generations. There have been a number of high profile retailers reporting extreme financial pressures as well as the negative impact on small independent businesses.
 Swansea City Centre is no different with decreasing levels of footfall over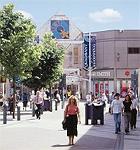 the past few years. Not to mention the increasing competition from out of town retail parks, new developments out of Swansea and the rise in use of internet shopping.
 These points highlight the difficulties and challenges facing Swansea and City Centres across the UK.
The Review
The Council's Environment & Communities Overview & Scrutiny Board are currently carrying out a review of Swansea City Centre, with the aim of looking at how effective Swansea's approach is to improving the City Centre.
Chair of the Board, Councillor June Evans, said '"These are  tough times for city centre traders because of a volatile economic climate, the rise of out-of-town shopping and the growing popularity of shopping online.
 "But tackling issues facing the city centre is a high priority for the Council and this is why we're conducting a survey to find out what people think and why many prefer to shop in out-of-town retail centres.
 "Our research will be invaluable in producing a report based on all of our discussions and findings. What we'd ask is for as many people as possible to give us their feedback."
 The Board will be collecting evidence until December with the aim of the review being completed at the beginning of the new year.
Your Views
As part of this review the Board are keen to hear your comments on Swansea City Centre and are particularly interested in finding out if people prefer to shop in out of town complexes and why that it is.
 Therefore we would like you to answer and comment on the following questions:
 1) Why are you shopping in out of town shopping complexes rather than Swansea City Centre?
 2) What would encourage you to shop in Swansea City Centre more?
 We are also running an online survey to gather views on this issue. If you would like to fill in the survey it can be found here.
Background Reading 
If you would like to do some background reading before you comment then please see the documents below:
City Centre Strategic Framework
Environment and Communities Overview and Scrutiny Boards City Centre Review Scope
This consultation will run until the 7th November. All the comments will be collated and a report will be presented to the Board.