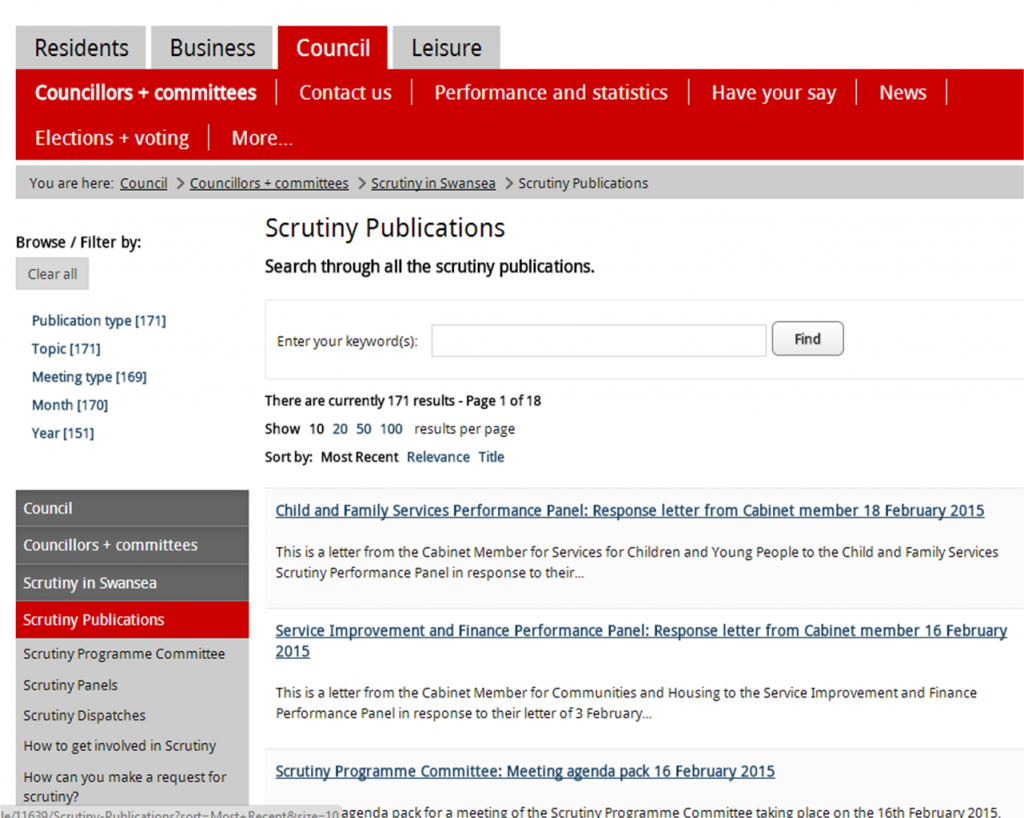 We have introduced a new publications page for scrutiny and we think it is a really neat way of making the process more open, transparent and accessible.
You can find the page here.
We now use this page to publish all scrutiny agenda packs, letters and reports and the responses that Cabinet provides back to scrutiny.
Sortable and searchable
Filters on the side of the page allow you find publications by topic, publication type or meeting type. This is more user friendly than the traditional way of organising democracy information on council websites – you don't need to go back and forwards between meetings to follow a piece of work.
It's not a new way of doing things of course – we took the approach from Gov.uk and  Wales Audit Office. What might be new is that we are sharing scrutiny work in this way. Perhaps this might be a better approach for all council democracy publications in future?
Sharing the work of panels and working groups
The main reason for introducing the page was an observation by the Wales Audit Office that much of the work of scrutiny in Swansea was difficult for the public to see. We have a single committee system and most scrutiny takes place through informal panels and working groups. The work is not published through the council's formal committee web pages except through the scrutiny committee papers and these are not always easy to sift through.
We decided to take this approach after doing some user story work on the information we provide. We think that the page is particularly helpful for meeting preparation and to allow people to be able to see the history of a piece of work or a panel in one place.
We still publish everything in pdf format and we know this is far from ideal. It would be better to break things down even further so people can share it and use it as open data. This is certainly something we want to work on and think about in future.
To improve the accessibility of the pdfs we have produced a plain language public summary for all of our publications and included this on every web page. This idea, to make council reports more digestable, is something that came out of the Notwestminster event.
We also now include a summary at the top of every report, letter and agenda pack.