On 7 July the Bus Services Working Group (WG) met with Cllr Mark Thomas, Cabinet Member for Environment Enhancement and Infrastructure Management and representatives of First Cymru and Cardiff Bus to look at bus network coverage and levels of service in Swansea.
Here is a summary of what scrutiny councillors on this WG discussed and the issues they raised.
The WG expressed the importance of bus services and felt that if there is going to be a modal change, public transport has to be the backbone of what will be done.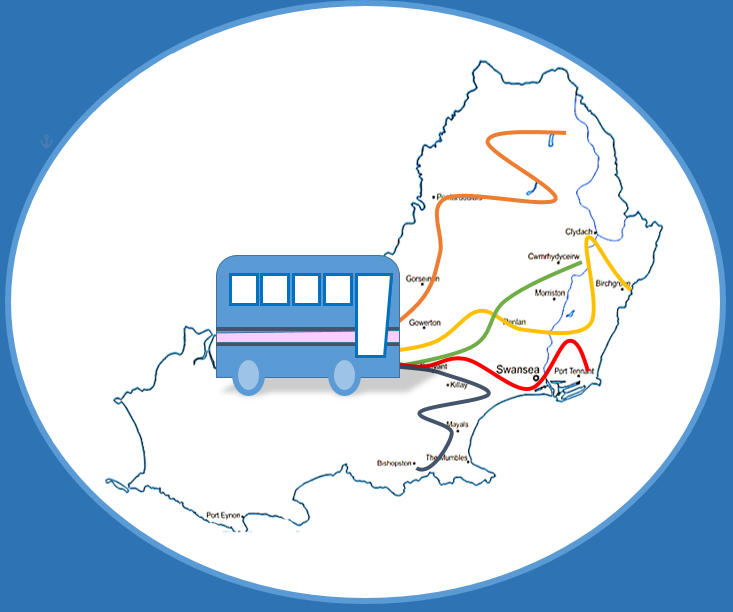 Members talked about the importance of getting a regular bus service to all areas in Swansea to tackle residents' isolation. People who have given up driving need to be able to access public transport otherwise they become prisoners in their own home. Members added that funding for active travel has been used to make it easier for people to cycle or walk, but not everyone is able to do this and that accessibility has to be the main point for the elderly.
Members felt that more dialogue is needed between councillors and bus companies particularly First Cymru, to discuss where changes can be made for the benefit of residents of Swansea and to help bus companies increase passenger numbers. Jane Reakes-Davies of First Cymru confirmed she is keen to talk to relevant councillors and officers about some services and about growing patronage.
The issue of why people are not catching buses and why numbers are diminishing and the importance of listening to local knowledge was also raised by the WG. The Chairman of Cardiff Bus, Cllr Christopher Lay stated that there is a need to publicise more to customers what is being done right with public transport in Swansea, for example how quickly you can get into the City Centre by bus in peak times compared to a car. Cllr Thomas agreed that the benefits of taking the bus are not publicised enough and that there is also a need to change the perceptions of the public.
The WG questioned First Cymru on a number of issues including:
How First Cymru works out its prices when tendering to the Council for open tender subsidised routes
If First Cymru have thought about how to reduce idling by buses switching off engines at red traffic lights (for buses without the stop-start technology)
What ticket incentives are currently offered, and the WG felt that incentives should be available via other means not just via the First Cymru app.
Cross-ticketing: Why tickets cannot be accepted by all operators
Cllr Lyndon Jones, convenor of the WG has written to  Cllr Thomas to reflect on the findings of the WG and has requested for a response by 30 August 2021. Click here to view this letter which includes full details of what was discussed at this meeting and questions submitted by members of the public. You will also be able to view all reports presented, a recording of the full meeting held and read the response letter once received from Cllr Thomas.