Over the past year we have asked the public to rate the importance of scrutiny inquiry topics. In total the public have rated the 5 inquiry topics that have taken place this year.
The results, obtained from the Swansea Voices Citizens Panel, show the topics in ranked order of importance: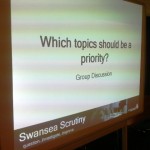 Streetscene – Road and footway maintenance and cleanliness (58%)
Inward investment in Swansea and the South West Wales region (52%)
How well the council engages with the public (47%)
Social care at home (45%)
Education other than at schools (29%)
The figures in brackets show the percentage of Swansea Voices respondents who agree that the topic is extremely important.
This information will form part of the presentation that will be shown to councillors at the Annual Scrutiny Work Planning Conference which will take place shortly. At this conference councillors will have the difficult task of prioritising the work of scrutiny for the coming year.
It is important that scrutiny is focussing on the issues that are most important to the public so scrutiny councillors would like your input.
They would like to know, are there are any council or other public services that you think need to be looked at.
If you would like to make a suggestion then you can either leave a comment or email us at scrutiny@swansea.gov.uk
Over the past few years many of the topics that have been suggested by the public have been used as scrutiny inquiries such as road and footway maintenance and cleanliness, social care at home, public transport and literacy in schools.
Watch this space for feedback from the annual work planning conference.