How schools, the council and partners meet the emotional needs of children is vital to improving both the wellbeing and the attainment of children and young people in our schools.  In the drive to constantly improve educational standards,  young people's wellbeing must be considered.  Schools must consistently recognise the importance of wellbeing matters not only for the benefit of pupils in wider society but in order for them to be able to learn effectively in school.  Consulting, involving and including children and young people in decision making is a must.  Children and young people must be able to give their views and for those views to be listened to and respected.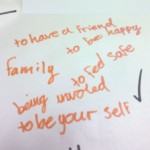 These were some of the main findings that came out of the recently concluded scrutiny inquiry into attainment and wellbeing in schools in Swansea.
The report of the Scrutiny Inquiry Panel 'Learning Lessons' provides a number of recommendations about how schools, the council and partners can improve wellbeing in schools.
The Convener of the Panel, Councillor Fiona Gordon says this in her foreword to the report:
As a group of councillors we were concerned about how the wellbeing of children and young people in our schools was being attended to, in a climate of the constant race to improve standards as measured by examination results.  We have been pleased to see some excellent, innovative and sector leading practice and we hope that this report helps to achieve more consistency across schools for all our children.
Some of the proposals in the report to the Council's Cabinet include:
All schools in Swansea including pupil referral units should sign up to the United Nations Conventions on the Rights of the Child (UNCRC) and work towards recognition as rights-respecting.
Schools are encouraged to work more widely with the many partners and organisations that could potentially deliver parts of the curriculum for Personal and Social Education in schools.
Different mediums for the wider training of governors including the use and availability of online training tools,  involvement in appropriate inset days and be party to wider 'all school' training be investigated.
The introduction of a system leaders approach within governing bodies.  That is new chairs of governors being supported by experienced governors from others school across the regions and new governors offered a buddy system from within the individual governing body.
More consistency be developed in transition from primary to secondary across schools in Swansea including the development of an advisory document based on 'what works' and in conjunction with schools across the authority. This should be made available online for schools and governors to access.
Performance measures relating to children and young people are revisited to ensure that they do not only measure objective data but ensure that subjective measures such as Children and Young People views are built in.
More opportunities for schools to share good practice be developed (including online options).
You can download a full copy of the report from our Scrutiny Reports Library